Equine Electro-Acupressure
The fusion of Equine Massage, Equine Acupressure and Technology
A Revolutionary Way to Improve
Your Horse's Health and Performance
---
Equine Electro-Acupressure and Equine Electro-Muscle Therapy are hybrid equine bodywork modalities that combine modern science and technology with ancient knowledge of massage, energy meridians and acupoints. The net effect is a fast, effective method of getting a horse out of muscular pain and maximizing his/her athletic performance.
Developed by Equine Performance Consultant, Donald Doran, these techniques are a reflection of Doran's 40+ years of hands-on experience working with a broad spectrum of equine athletes ranging from Kentucky Derby winners to Olympic contenders.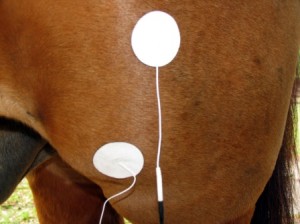 Using a mild electrical current applied to specific points on the horse's muscles, the Equine Therapist is able to promote circulation, invigorate muscles and relieve pain without the use of drugs, surgery or invasive procedures. Doran calls Equine Electro-Acupressure the ultimate 'disruptive technology" — disrupting the cycle of muscular pain abruptly.
This is a one-of-a-kind program that you will not find anywhere else in the world.
Equine Electro-Acupressure Certification Training
This is an advanced course.  The best prepared candidate for this course is a person who has successfully completed both our Foundation and Advanced Equine Sports Massage Training Programs.  Once you have a good grasp of functional equine anatomy and muscle health evaluation skills, then you can fully appreciate and properly use the knowledge presented in our Equine Electro-Acupressure Certification course.
This is a five day program.  Each day consists of of classroom and hands-on learning.  The Certification Testing is held first thing in the morning on Day 5.
Topics covered in this course include:
Basic Principles of Acupuncture, Acupressure and Tui-Na
Yin Yang Theory
Five Element Theory

Including Five Element Horse, Rider and Trainer Compatibility Evaluations

Location of the 14 major energy channels on the horse
Select acupressure points for better health and performance
Moxibustion Therapy, Tui-Na Therapy, Laser Therapy
Safety precautions and contraindications for Equine Electro-Acupressure treatments
Evaluation Protocols for:

Neck, Shoulder, Back, Hip, Hock, and Stifle pain

Equine Electro-Acupressure Treatments for:

Neck, Shoulder, Back, Hip, Hock and Stifle pain
Through lecture, demonstration and hands-on work, students will learn how to effectively integrate Equine Electro-Acupressure into their equine bodywork sessions.
All course materials and the Equine Electro-Acupressure unit are included in the cost of the course.  Class starts at 9:30 am and ends at approximately 4 pm each day.
Click here to view our class calendar and prices.
---
Client Testimonials
 "Equine Electro-Acupressure Keeps My Champions Winning!"
Sandy Ferrell, Show Hunter Rider and Trainer
Owner of Royall Show Hunters.  Based in Wellington, FL
"DON, THE HORSES LOVE THIS WORK!"
Imtiaz Anees, Equestrian Olympian, Three Day Eventing
Owner of Springtown Stables, Moreland, GA
"After a Session with Don, My Horses Feel Smooth and Supple!"
Greta Wrigley, USDF Gold, Silver & Bronze Medalist
3x Dressage Trainer of the Year, Based in Alachua, FL