By Melissa Sykes
When we think of getting a massage, the picture most of us get in our mind is of a tropical vacation, white, fluffy towels and soft music.  We usually equate a massage with something we only do for ourselves as a luxury.  In other words, maybe we find the time and disposable dollars for one or two experiences in our lifetime.
But, imagine you are an elite athlete.  Perhaps an Olympic level hurdler.  Massage has a whole new meaning.  It even has a different terminology – sports massage.  The purpose is not only to relax you, but to help those muscles recover and strengthen from the exertion of training and competition.  Regular sessions with a good sports massage therapist could mean the difference between the Bronze and the Gold.
Now, imagine you are a racehorse.
Many trainers have tapped into the benefits of massage for their horses, but even more think that a 'good currying' can just as easily get the job done.  While a good currying doesn't hurt, having someone who understands the biomechanics of the equine muscular system evaluate and treat tense or strained areas can help the trainer bring out the best in his athletes.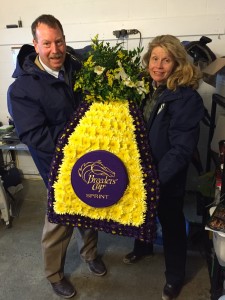 Don Doran has been practicing equine and human sports massage therapy for over 40 years and has been teaching his techniques for almost twenty five years.  Based in Ocala Florida, he, along with his wife, Lisa, have become the secret weapon for many racing stables.  Doran has put his hands on numerous past and present champions including Holy Bull, Musical Romance and, most recently, Runhappy.
"I have been teaching equine sports massage at my school since 1993," explained Doran. "As a lifelong horseman the jump was not from humans to horses, but just the opposite.  I attended human massage school, specializing in sports massage, in order to bring the work over to the horses."  After spending a few years at the racetrack, 'strapping' as he called it, Doran learned a lot about rubbing racehorses.  But, it was later, during his time in the U.S. Marine Corp. that he was first exposed to sports massage.  "Getting that initial massage work when I was in the Marines really set off a light bulb in realizing what the old timers were trying to do with their horses (at the racetrack). That's really when the idea of utilizing massage with racehorses took hold."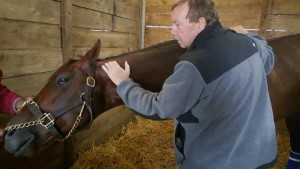 After leaving the Marines in 1975 and returning to the track, Doran "utilized basic massage work over the next 15 years in various aspects of the thoroughbred world from the track to the farm with good results. But in order to improve my knowledge and bring it to the next level, I felt I needed to get professional training and decided to attend human massage school and specialize in sports massage."
"One of the most common problems that I saw that massage could help was sore backs," Doran said.  With racehorses, trainers most often look at the legs, then maybe at the propulsion or rear end if a horse seems to be a bit off. The back is often completely ignored.
"One of the prime muscle groups of concern in the racehorse are the muscles of the back," Doran explained. "This is often an overlooked area in the racehorse and often a primary causative factor of poor performance.  The back is your main proprioceptor going through life, as anyone who has ever had a back problem knows – if your back is bothering you, all biomechanic movement is off."
But what causes that horse's back to be a problem?  "Sometimes from saddle fit and placement, sometimes from poor riding from the exercise riders, and sometimes simply from the repetitive stretch and contraction of the long back muscles in the training."  The design of half tree exercise saddles tend to position a lot of exercise riders weight too far forward, where it interferes with the shoulder – a mistake many in the show jumping world also make.  And using a half tree exercise saddle or one that doesn't fit properly, according to Lisa Doran, can cause back pain and muscle atrophy.  "A saddle is a system.  The bottom of the saddle should be a mirror image of the horses back with relief at the front and back edges.  The bottom of the saddle belongs to the horse and the top of the saddle belongs to the rider.  It must work for both."
An initial session with an equine sports massage therapist includes an overall assessment of which primary muscles might be especially tight and tense. The Dorans have come up with a 22-point checklist when evaluating areas to concentrate on.  Beginning with the tempo mandibular joint (TMJ), they will palpate from the poll through the body touching on the neck, shoulder, chest, wither, back, belly, hip, rear, stifle, and groin areas.  A muscle reaction is a sign of stress or pain.  "Healthy muscle tissue does not hurt," maintains Don Doran.
"If possible, I like to initially work with a horse over the course of 2-3 days. That way I can identify problematic areas and how well they are responding to the work," said Doran.  Over those few days, Doran can get a better assessment of how the muscles feel as well as getting real time feedback from the trainer and rider on how the horse is going. "After that, regularly scheduled work, depending on the stables schedule, helps to keep them supple."
It's never too early to start the horse on a massage program.  "Ideally, I like to begin working with young horses in the initial stages of training – within four weeks of being saddled in order to get an assessment and reduce the stress of utilizing their muscles in an athletic way," Doran said.  "As the training program progresses, incorporating a professional sports massage therapist on a weekly, bimonthly, or even monthly basis can assist in preventing muscular problems down the road."
Maximum benefit with the use of sports massage is achieved through regular sessions, elaborated Doran.  If possible, the horse should be worked once a week or every other week as the muscles of an athlete in training are always tight and in need of relief.  "On the outside, once a month.  After that, things can really begin to get ahead of you."
Doran believes in empowering his clients to participate in their horses' program.  "We like to offer guidance to the trainers and grooms on areas (of the horse) to concentrate on between visits.  This can be done by teaching them some basic massage work at the farm or stable.  Optimally daily spot work with a groom can really be of benefit. The more repetitive the work, the better the results."
Once massage has been incorporated on a regular basis, it's just a matter of keeping the muscles tuned and flexible.  For instance in 2015, Doran started working with Runhappy about a month prior to the King's Bishop Stakes (G1).  A race in which the son of Super Saver set a new stakes record at Saratoga. He also received regular work from Doran leading up to his 2015 Breeders Cup Sprint win at Keeneland while setting a new track record. The sessions also continued thru Runhappy's romp in the December 2015 Malibu Stakes at Santa Anita on opening day.
"With each session I like to evaluate his (Runhappy) overall muscular tension patterns for comparison to what I know to be his muscular base profile," he explained. "I am looking for anything out of the ordinary which may show he is using his body and muscles in a different way.  Being a racehorse, the major muscle groups used by runners on a daily basis are of prime concern. Maintaining suppleness and flexibility of the back muscles, gluteals, hamstrings, shoulder, and neck are of extreme importance to a runner. These muscles are worked with each session."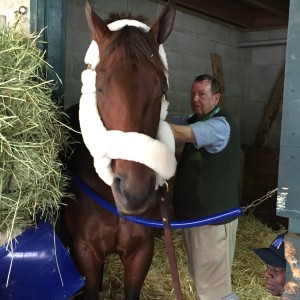 Doran begins his sessions with Runhappy by working with the neck and shoulder on one side.  From there, he moves into the back, lower back and croup area. Next come "the hindquarter muscles of propulsion, the engine, to assist in increasing maximum power through maintaining suppleness, as well as reducing any residual muscular soreness due to the regimen of regular competitive training and racing."  Progressing from there he will begin to check the secondary and deeper muscular groups for any tension which may create off movement or effect the biomechanics of Runhappy's movement.
"To say that Runhappy is a fit individual is an understatement," Doran said. "With his specific training program Runhappy is a totally fit athlete that brings his "A" game to every race meet.  Working with a top class athlete like that always brings a smile to your face."
While Runhappy epitomizes what it means to incorporate sports massage in a program where the athlete is already fit and basically problem free, most trainers have at least one runner that stumps them when it comes to why they are not performing well.  Aqueduct based trainer Eddie Barker watched as Doran was brought in to work with Runhappy while up at Saratoga.  "I met Don and had him work on a couple of my horses," said Barker.  "I won two races the first week at Belmont with both of those horses.  One was a filly that ties up something awful.  I bumped her up in class and she won.  He's very, very good at what he does."
Working on racehorses, or any equine athlete, is a matter of timing.  Any major, deep work should be done at least 5 – 7 days before a competition or race.  "The closer you get to competition, the less invasive you want to work," said Doran.  But even if the horse only has one massage session, the work can still be effective.  "Sports massage is like peeling an onion," he explained.  "In order to get to the deeper muscular problems one must first eliminate the superficial problems and get to the core.  Muscular problems start superficial, then proceed to affect deeper muscles as the problem progresses."
The take away from equine sports massage?  As Doran put it "The Sports Massage work allows the horse to reach and compete at whatever their maximum potential is".