Hosted Clinics &
Hosted Equine Bodywork and Saddle Fitting Events
Have some fun with Don & Lisa!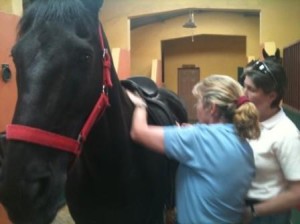 ---
We have a variety of short courses that we present at our farm in Ocala, FL and on the road. These presentations are delivered in a professional and enjoyable format that holds the interest of the attendees while increasing their Equine-IQ.
We tailor our clinics to fit your needs and budget:
Single Half-Day Clinic
Multiple Half-Days Clinic (i.e. Saturday & Sunday afternoons)
Full 1-Day Clinic
Full 2-Day Clinic
Full 3-Day Clinic
Professional Clinics (5+ days)
Popular Clinics are:
Introduction to Equine Sports Massage
Basic Equine Sports Massage techniques, Equisports Massager Techniques, Foreleg and Hind leg Stretching
Spa Equestrian for Riders
A treat for all riders! Take time to recharge your energy with fun and natural activities such as Aromatherapy, Massage, Acupressure, Tai Qi and Reflexology. Learn Dynamic Movement Patterns and Strengthening Routines to improve your balance and flexibility
Introduction to Saddle Fit – English and Western
Let Don and Lisa share their experience and expertise with you regarding what to look for and what to watch out for when you are selecting your next saddle!
Introduction to Equine Acupressure
Participants will learn the locations of the equine energy channels (meridians) and basic acupressure techniques that will benefit their horse.
Introduction to Equine Complementary Therapies
This workshop will teach participants how they can incorporate simple, yet highly effective, complementary therapies into their everyday horse routine. Topics covered massage, cranial sacral, polarity, magnets, homeopathy, Bach Flower remedies
Click here to read the PDF file of Options, General Pricing and Hosting Guidelines