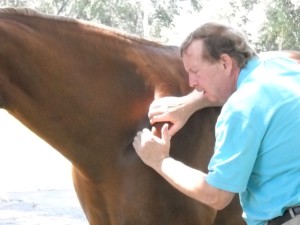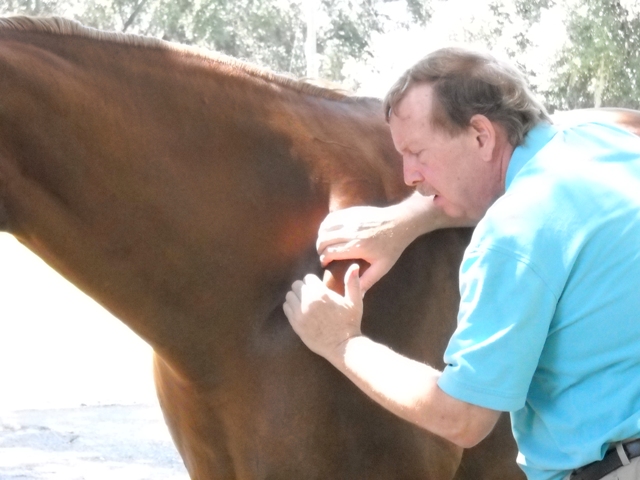 In 1993 I introduced the first extended Equine Sports Massage (ESM) Training Program to the equine industry and human massage world.  Some people immediately saw the benefits of the work and embraced my new idea.  Other people were skeptical and resisted any type of change to the way horses have "always been trained".  By 2008, Equine Sports Massage Therapy reached a broad base of acceptance in the equine world. Now there are many schools teaching Equine Massage and some teaching Equine Sports Massage.  Some schools have good curriculums and experienced instructors, while others clearly miss the mark.
There are many competent people performing Equine Sports Massage Therapy on their own horses and providing the service to others.  Unfortunately, there are also a lot of people claiming to be Equine Sports Massage Therapists, but they are not providing accurate evaluations nor are they providing quality services.  They are doing a feel-good-rub-a-dub on the horse and calling it therapy.  This is one reason why some people say, "I tried that Equine Massage and it does not work".
Equine Sports Massage is a craft, much like riding.  In order to be mastered, it has to be properly practiced with correct supervision.
Learning Equine Sports Massage techniques gives horse owners and equine professionals new tools for communication, evaluation, problem solving and prevention.  There are some simple techniques that everyone can learn and perform.  These techniques will benefit the horse and strengthen the human-equine bond.  There are also many advanced techniques and evaluation skills which require in-depth study and practice under direct instructor supervision.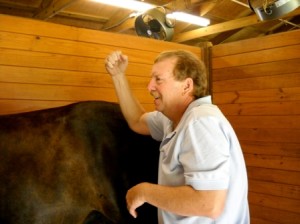 Professional Equine Sports Massage Therapy is a highly specialized field or work.  The successful practitioner must have a combination of skills:
Horsemanship Experience
Equine Massage Hand Skills
Knowledge of Equine Anatomy
Knowledge of Contraindications for Equine Massage
Knowledge and Respect for Scope of Practice and Ethics
Interpersonal Skills and Maturity
Intention and Concentration
Knowledge of Saddlery and Harness
Horsemanship Experience
At a minimum, one must be competent in horse handling and be able to work safely around horses.  This is a skill which can only be obtained by working with a variety of horses over an extended period of time.  Good Horsemanship is a craft and will always be an apprenticed-based system.
Individuals who have experience working with high performance equine athletes are ideal candidates to become professional therapists.  These individuals are ideal because they have first hand knowledge and understanding of the environment and parameters that surround the high performance horse.
There is a huge difference in the amount of experience and skills required to evaluate and perform Equine Sports Massage Therapy on a thoroughbred race horse versus the skills required to provide Equine Massage for a trail horse.
Equine Massage Hand Skills
Equine Sports Massage is a tactile craft.  Like any craft, it must be properly practiced in order to be finessed.  This requires the student to practice on their own and practice with direct instructor supervision.
One challenge for new therapists is to develop the advanced palpation skills which enable a good therapist to find the trigger points, spasms and problem areas in a muscle.
Another challenge for new therapists is to develop the "right touch".  For any given muscular problem, what is the right technique to use and what degree of pressure should be used?
I believe that most people can learn these skills and put them into practice.  I believe that these skills are best taught by someone trained in both human and equine massage.
Equine Anatomy
A professional therapist must have a solid understanding of the equine muscular, skeletal and nervous systems.  The therapist must have committed to memory major muscles in all of the regional areas of the horse.  For each muscle, the therapist must know the muscle origin, insertion and action.  Furthermore, for each muscle, the therapist must know the opposing muscle.  The ability of the therapist to provide a correct evaluation and effective problem resolution hinges upon their knowledge of equine anatomy.
Contraindications for Massage / Scope of Practice & Ethics
 Any responsible Equine Massage training program will teach students the contraindications for massage and clearly define the therapist's scope of practice and ethics.  Equine Sports Massage Therapists are not primary health care providers.  Equine Sports Therapy is not a replacement for veterinarian intervention and treatment.  Equine Sports Massage Therapists are part of the training program and well care team.  If there are any doubts concerning the health of the animal, refer to a veterinarian.
Interpersonal Skills and Maturity / Intention and Concentration
Over the years I have trained people of all ages and from any different backgrounds.  The ages of my students range from 18 up to 60+.  You are never too young, nor too old to learn about Equine Sports Massage Therapy.  The students who perform the best work are the ones who can quiet their minds and concentrate on the massage session.  Equine Sports Massage Therapy is not a conventional career path.  The best candidates to be Professional Equine Sports Massage Therapists are those with life experiences in the working world.  The best candidate will have strong interpersonal skills, the maturity needed to manage their own business and the ability to pace to all of the different personalities that they will encounter in the equine industry.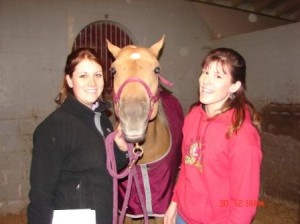 Many young people enroll in my program because they want a career with horses.  I welcome these students into my class and I offer them the following advice:
Learn Equine Sports Massage Therapy and start using it on your own horses.
As your skill as a therapist increases, offer your services on a part-time basis.  Be patient and see where the work takes you.
Go to college or vocational school.  Learn the skills for a conventional career.  Develop your interpersonal skills and allow yourself time to mature.
Realize that it is very difficult to earn a living solely in the equine industry.  The greatest amount of money that is made in the equine industry is made from buying and selling top quality athletic horses or having DVM attached to your name.
The information presented in my Equine Sports Massage Foundation Training Program is a great asset to anyone showing, training, and/or buying and selling horses or planning on going to vet school.
We hope to see you in a class soon!