This 2017 is the 10th anniversary of the 2007 Disney movie "Secretariat" which hit the theaters. One aspect of the movie never set well with me. The Disney villainizing of trainer Frank (Pancho) Martin, Sham's trainer who was a top horseman and class individual.
Standing at the Belmont training track rail one day when I was 16, the trainer I worked for told Frank standing there that I wanted to be a horseman. Frank's answer has always stuck with me "if you can watch a horse and see what's wrong with them, you will be on your way to being a horseman." My trainer, an old school himself said "Amen." As a horseman, a little longer at the tooth now, I've always kept that advice close to heart and say also "Amen!"
Unfortunately, most people were introduced to Martin by the Disney movie "Secretariat," which portrayed Pancho as a vulgar, mean-spirited heavy, a male version of Cruella De Vil.
Ron Turcotte, Secretariat's jockey also had a problem with the way trainer Frank "Pancho" Martin was portrayed. Martin trained Secretariat's rival, Sham. In the movie, Martin can across as a loudmouth, obnoxious lout. It came across in press conferences that involved the two camps. Turcotte said it wasn't that way. "Pancho is a wonderful person, always was," Turcotte said.  "I loved him, he was great to me and it hurt me to see the way he was portrayed."
Trainer native Gary Contessa was Martin's assistant from 1980-84, and he learned well from the master. "That movie really made him angry," Contessa said. "He was so ticked off. It didn't show the real Frank (Pancho) Martin. He was difficult to get along with, but he had a good heart. If I'd been an adviser on the movie, they would have done a better job of getting him right."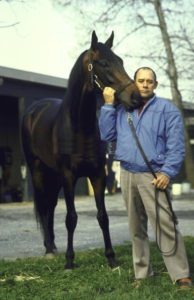 "What a great guy," Contessa said. "I have so many fond memories of him. He had a temper and was a wild and crazy guy, but he had a heart of gold. Every Thanksgiving he'd give out 300 frozen turkeys on the backstretch, and at Christmas everybody got a present."
Bill Nack covered the 1973 Triple Crown for Newsday. Nack was an adviser on the film, which was based on his excellent biography of Secretariat, and he agrees with Contessa. "I had nothing to do with making Pancho look like that, and I didn't like it, either," Nack said Friday by telephone. "That's not the way Pancho was, and I told that." A scene showed Martin being rude to Secretariat's owner, Penny Chenery. Not so, Nack said. "I introduced them before the Preakness, and Pancho couldn't have been more polite,"
Bill Nack had written the following article about the meeting: "Penny and Frank, the Real Meeting"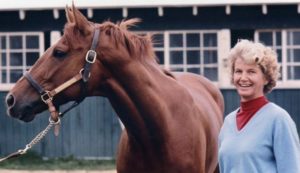 Penny brought a sense of grace to her role as owner. Ever since the week leading up to the Wood Memorial there was a rift between the two trainers of Sham and Secretariat and it lingered into Pimlico although it is simmered down a bit at this point. One day Penny approached me knowing I was on good terms with Martin, Penny asked me to introduce them if I saw a chance. "I've never met Frank Martin." Penny said." And I would like to."
A few mornings before the Preakness I saw Frank sitting alone in front of Sham's stall and Penny doing an interview at the other end of the shed. I told Frank that Penny wanted to meet him he lit up like a boy on Christmas morning. I then approached Penny and whispered to her that Frank was looking forward to meeting her. "Oh, good," she said "let's go."
As Penny approached him Frank leaped to his feet like a young Cadet at West Point, looking like he was about to click his heels and salute. Instead he stuck out his hand, "Very nice to meet you Mrs. Tweedy," Martin said. Penny said " I heard so many nice things about you." Thank you."
They had a very pleasant chat. Sham hearing the chatter poked his head out of his stall. Penny patted his chocolate nose telling Martin what a nice horse he had. Sham nuzzled her upturned palm. Martin showed her where Sham hit his head on the gate in the derby. They wished each other good racing luck in the Preakness.
"Well thank you." Penny said "It was nice to meet you." "It was nice to meet YOU." Martin responded. Penny's was a lovely gesture and it's stilled the troubled waters that existed between the two camps.