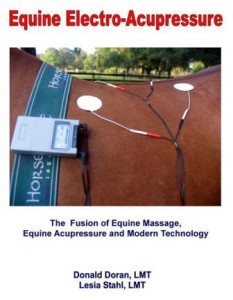 Equine Electro-Acupressure Book – $25

This book teaches horsemen and women how to perform Equine Electro-Acupressure  treatments on their own horses:
Benefits of Equine Electo-Acupressure:
Maximizes equine athletic performance without drugs, injections, surgery or expensive procedures.
Provides horses with fast, effective muscular pain relief
Invigorates muscles
Stimulates Meridians and Acupoints
Step by step instructions teach equestrians how to use a TENS unit to provide their horses with muscle and acupoint stimulation previously only available through a professional acupuncture session.
This book features treatment plans, full color photographs and location descriptions of muscle points and acupuncture points used to treat common problems in performance horses:
Upper and Lower Neck
Mid and Low Back
Shoulders
Hindquarters
Hamstrings, Quadriceps and Stifles
If you don't have a TENS unit, you can purchase one below.
---
Equine Electro-Acupressure Unit – $100
Digital TENS unit, 8 two-inch electrodes, conductivity gel, carrying case
---